A short introduction to Sun Ra and his music
«

I'm painting pictures of things I know about, and things I've felt, that the world just hasn't had the chance to feel... I'm painting pictures of another plane of existence, you might say, of something that's so far away that it seems to be nonexistent. I'm painting pictures of that, but it is a world of happiness which people have been looking for or say they wanted, but they haven't been able to achieve it.

»

Sun Ra, interviewed by Henry Dumas in 1966
Sixteen years have passed since Sun Ra left this world, but his spirit and his music is still today a reference point for many experimental musicians. Right in the middle of the 1990s grunge-dominated era, guitarist Thurston Moore was a notable and openly fanatic - Sonic Youth guitarist also wrote the liner notes for the reissue of the movie Space is the Place -, and it's hard to imagine what could have been sort out of a collaboration between him and Lightning Bolt's Brian Chippendale, a hard-on Saturn records collector.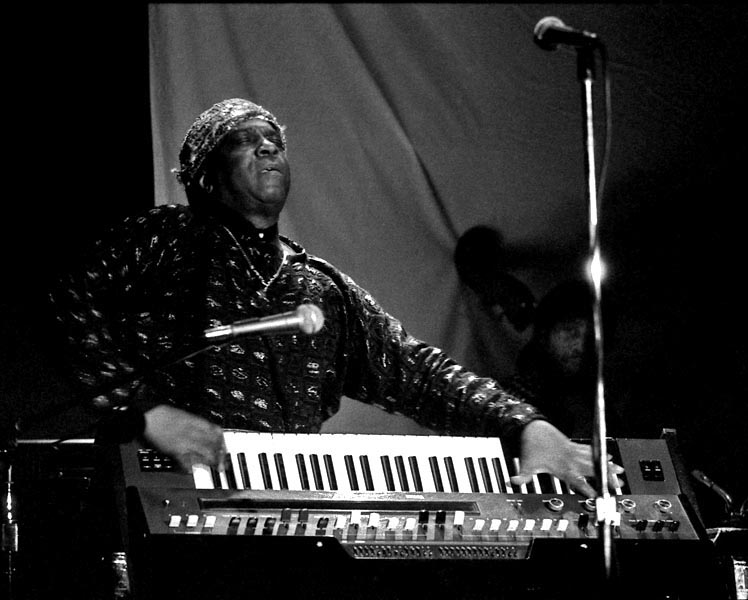 «
I'm not real, I'm just like you.
You don't exist in this society.
If
you did, your people wouldn't be seeking equal rights.
You're not
real.
If you were, you'd have some status among the nations of the
world.
So we're both myths.
I do not come to you as a reality, I
come to you as a myth.
Because that's what black people are,
myths.
I come to you from a dream that the black man dreamed
long ago
.
»
Those are the words Sun Ra tells to a bunch of young African-American conscious guys in one of the scenes from the movie Space is the Place. But Ra's answer to racism ad social issues isn't negative and cynic at all. Sun Ra gave life to a music and a mythologic world of its own, taking ancient cultures skills not as a simple matter of self-justifiability, but, more, as a way to open himself and his music to a wider and more profound self-consciousness:
«
They say the word was made flesh.
It's really about sound – and it



wasn't made flesh, it was made fresh.

All these things the creator




told me in Alabama.

I'm dealing with words that can prove




themselves – that can prove themselves to be correct.

»
Ra's was a quest for deep roots, on many levels; as black (counter)culture did since 1920's Harlem Renaissance, his was a statement about identity in which symbols, equations, astronomy and music had an important role as far as antique Egyptians, Ethiopians and African / Eastern world concepts about the creation, the destiny and the 'outer-word', the 'outer-space'; to those who are into pre-Aristotelic philosophies those concepts will be reminiscent of a vision of the world and of the man that now we can call as 'olistic', that considers reason as a small part of the man's inner world, and the relation with the Divine (the 'otherness') as essential in order to have a more complete sense of reality. Music, in Sun Ra's vision, is the fuel and the conductor of the Space energy.
Space is the Place
, a movie for which Sun Ra realized the script, is an attempt to take Ra's philosophy to a larger audience. The movie was realized in 1974 by John Coney, a TV director based in Chicago. It can be considered a 'blaxploitation' movie, as Superfly and Shaft. I can't imagine what would have come out of it, if Alejandro Jodorowski were the director. Anyway, even if a commercial movie, further disowned by Sun Ra himself, it can be considered a good companion to the over 200 records (mostly self-produced via Saturn label) and a good companion to the more artistically focused Melvin Van Peebles films, like his Sweet Sweetback's Badaaas Song.
During WWII, Hermann Sonny Blount objected to the U.S. Army and was put in jail for his refusal. When pulled out, he went in Chicago, where he joined the orchestra led by Fletcher Henderson, that was one of his idols. Self-thought on piano since the age of 7 - for the local school he was putting on charts swing tunes heard on radio - he took at the beginning of his career the name of Le Sony'Ra. Well conscious of how big orchestras were working but at the same time fascinated by the music style indicated as 'exotica' (one of the first post-modern attempt to melt together contemporary and ethnic music), he started to write unorthodox arrangements and to develop his own philosophy. Sun Ra, Leni Sinclair, 1980, Ann Arbor, Michigan

Sun Ra's first groups are small bands, but sooner they start to grow, becoming real orchestras, that he baptizes as 'Arkestra' (from 'ark', a reference to both biblical and Egyptian mythologies). Sun Ra's activities are fertile and feverish, from continuous studio rehearsals and recordings to developing his knowledges about ancient African cultures. In 1971 he gave public lectures at Berkley about the Egyptian Book of the Dead, and about the relationship between Osiris rituals and Jew monotheism.
Corhan was replaced by Eddie Gale, while baritone saxophonist Pat Patrick and guitarist Calvin Newborn were lined up to record "Secrets of The Sun", whose sessions were recorded in 1962, but published in its entirety only in 2008. This record is full of the seeds for the Arkestra to come: John Gilmore - that in New York will be part of Andrew Hill's group of musicians for his Compulsion !!! Lp on Blue Note - is clearly audible here as a good influence on Coltrane's mature sound, while orchestral colors are richer and improved with oboe, bass clarinet, 'spacey' percussions and vocals.
Placement in NY helped creativity: unusual instruments - bells, ethnic percussions, gongs, keyboards and synthesizers -, spacey dresses - put up and fixed from disused stage costumes after Hollywood kolossals shooting and theater plays - were added to the constant evolution of the Arkestra music. Tons of records were issued under Ra's owned El Saturn Record, hand-drawed on covers and sold at the gigs without a proper distribution. Twenty years after the beginning of the Arkestra's career, independent punk and electronic music will use same modus operandi in order to survive economically and give life to their artistic intents and purposes without corrupting themselves with business.
Lawyer Bernard Stollman's ESP-Disk Label reissued since 1965 to 1967 three originally self-published Sun Ra records: the two volumes of The Heliocentric Worlds of Sun Ra, and the live concerts recorded in various college gigs put on Nothing Is … . Stollman and his label were documenting the so-called "New Thing", from Albert Ayler to Marzette Watts, from Milford Graves to Pharoah Sanders, from Ornette Coleman to Henry Grimes. In those same years, avant-garde composer and filmmaker Phil Niblock produced The Magic Sun, an experimental movie in which images, that are negatives showing enlarged details of the instruments, of the hands and of the faces of the players, are synchronized with the music, taken from the sessions for the album Strange Strings. This is a rare (but newly available thanks to Atavistic) 1967 record in which the players were invited to play Eastern string instruments - the Iranian dutar, the ukelin, a violin-like 16 strings instrument with slots on both side to help using the arco, the Ukraine bandura, a crossing between a lute and a cither - de-contextualizig them. This more than 20 minutes piece is one of the most fascinating charts produced by Sun Ra and his Arkestra in their entire career.
The Solar-Myth Approach, voll. 1 and 2 came out of the same sessions, but were printed under Ra's permission by BYG / Actuel, a Paris based label. The track on those records are a prosecution of Sun Ra's efforts to deepen and enlarge his sound palette: martenot waves, rocksicord, moog, minimoog and Wurlitzer piano are his main tools here, with which he tries to expand the perception of the space, avoiding the usual coordinates as far as rhythm, harmony, melody and creating a mass of sound variously layered and condensed.
On live performances, ethnic percussions created a wild humbling, over which cluster piano notes, strings and horns, electric guitar fused themselves with bass drones, far from bop and post-bop idioms, with a high percentage of high pitches, honk and squeals, and wide and wrapping vibrations, contrasts and climaxes. Even voice is often amplified, using tricks like singing through a glass of water near the microphones.
Singer June Tyson joined before the Arkestra moved to Philadelphia. Tyson added to Ra's live concerts a much more stressed theatrical element, becoming keyboardist's magnetic alter-ego, giving life to his poetries and songs, adding a performative touch to the yet colourful and engaging live exhibitions.
After a couple of decades dedited to widening outer space perceptions, travelling to Egypt, and refining his artistic cross-fertilizations, since the beginning of the 1990s Sun Ra and his Arkestra came back to swing: Fletcher Henderson and Duke Ellington were full part of the program, while original compositions were rearranged to fit with the new program. After Sun Ra's death by a heartache, Marshall Allen would take the leadership of the Arkestra, now a well-known and respected institution between the most alternative avant music cogniscenti.
The first Italian version of this article was originally published on Elapsus - Cultural Webmagazine in January, 2011. I thank Davide Mauro for being my first publisher and for the support during our collaboration.


Bibliography on Web
Saturn Web (detailed discography and bibliography)
Other detailed discography both in chronological and alphabetical order
The Official Sun Ra Arkestra / El Ra Records
Phil Niblock Official Site